Indian food is often flavored with the non-scalding spices such as cinnamon, cardamom, ginger, cloves, garlic, cumin, coriander and turmeric. Spices are used in India to tone up the system the way wines aid the digestion of Western Cuisine.
As for the Cuisine of Kerala, it is mildly flavored, gently cooked and has a certain genteel delicacy on the stomach. A case example is the rich biriyanis of the northern parts of Kerala: The Malabar Biriyanis. The biriyani is an interesting mix of are meats, spices and onions slowly steam cooked in boiled rice. Malabar biriyani was brought across the Indian Ocean by Arab Seafarers. It should be eaten hot with crispy, crunchy papads.
A favorite breakfast dish is Poottu. Rice flour dough is mixed with grated coconut and steamed in hollow bamboo cylinder. It is eaten sprinkled with sugar or with mashed bananas or with a spicy curry made of channa or chic peas.
Iddlis or fluffy white steamed cakes and dosas which are thin golden pancakes are popular in Kerala. They are made up of yeasty rice and lentil batter. They are not strictly Malayali Cuisine. They come across from the vegetarian kitchens next door in the State of Tamil Nadu. The Kerala breakfast is considered to be one of the finest and most healthy breakfast in the world.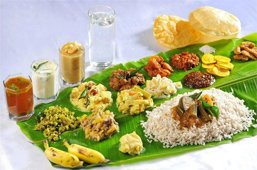 Kerala does have its own well developed vegetarian Cuisine. If you visit the State during post harvest Onam season, do opt for a typical vegetarian Onam lunch. Avial, on the other hand, is a mixed vegetable gravy dish thickened with coconut and yogurt. Drumsticks, jack fruit seeds and slices of mango are often used. Olen is also a very gravy dish made of ash gourd and dry beans where the predominant flavor is that of coconut milk. It is a fairly thick liquid squeezed out from the white flesh of a fresh coconut.
Bananas are very popular in Kerala Cuisine. Sliced finely and deep fried, they make an excellent snack. Cut into bits, fried and dipped in jaggery or sugar syrup, they are sweets. cooked in thick yogurt and seasoned with chilly, turmeric, cumin seed and curry leaves, they become accompaniment to the main meal. Malayalee Pachadi is a fairly thick sauces made of sugar yogurt, grated coconut, mustard seed and a wide spectrum range of spices including green and red chilies. Sambar is a cross between a sauce and a broth. It contains smashed lentils, cooked vegetables and spices including the exotic and edible resin asafetida.
For dessert,there is the Pradhaman or Payasam, porridge like sweets with a vermicelli or rice base, cooked in milk and sugar or jaggery.A favorite dish of Syrian Christians is Stew. Chicken and potatoes are simmered gently in a creamy white sauce flavored with black pepper, cinnamon, cloves, green chilies, lime juice, shallots and coconut milk.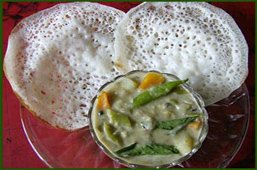 The Stew is eaten with Appams. Appams-Kallappams or Vellayappams are rice flour pancakes which have soft, thick, white spongy centres and thin golden crisp lace-like edge. Meen vevichathu or fish in a fiery red chilly sauce is also another favorite item. Besides the chicken and fish, there is also red meat, erachi olarthiathu. Beef (or lamb) is boiled with roasted coriander seeds, red chilies, cloves, onions, Cummins, garlic, ginger, fried coconut chips and a little vinegar. Then with the water reduced, the meat is almost fried dry in a little oil that has been flavored with sliced shallots and highly aromatic curry leaves.
No meal is complete without rice, and it is puffed up in a narrow-necked urn. This is parboiled rice. Besides the stew and appams, meat, fish and rice, there are delicious little morsels-fried banana slices, crunchy yam crisps, prawns in coconut milk and chestnut like seeds of jackfruit flavored with chilies, garlic, cinnamon and ferule. The meal ends with Paani-thick, creamy yogurt, It is the syrup of the South West, the honey made without any assistance from the bees, by boiling down tapped toddy till it is a thick golden syrup.
FOOD HABITS
Appam is popular with thiyyas, eaten with `Stew' sometimes with egg mixed into the batter-with thick coconut milk arid sugar and sometimes with the North Kerala specialty meen kootan or `Fish in Coconut Sauce'. Lamb `Stew' is served in this meal as well with neipathal, a star fish shaped fried bread made with ground rice. Mopla fishermen, who are Muslims, enjoy eating their Poottu with well spiced meat. They will not touch Port but have a passion for shell fish.
Moplas are not the only fishermen in Kerala. Further down the coast is the fishing village of Vizhinjam, where about a hundred families all Latin Christians live along sandy lines.The deer and pomfret and prawns all end up in the kitchen in the form of meen pappas, fish cooked with curry leaves and coconut milk or meen molee, fish cooked with onions.