Location Map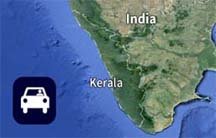 Kochi (Cochin), the Queen of the Arabian Sea, is situated on the west coast of India in the beautiful state of Kerala. Kochi can be regarded as the commercial and industrial capital of Kerala. Kerala is one of the most prosperous states of India, flanked by the Arabian Sea on the western side and the Western Ghats on the eastern side. Roughly speaking Kochi is 10 º North and 76 º East.
Kochi is the most important city in Kerala. It is the second most important city (after Mumbai) on the western coast of India. Kochi is known as the Queen of the Arabian Sea and the Queen of the Adriatic. It is also referred to as the Gateway of South India.
By Road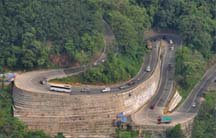 Three important National Highways(NH) pass through/start from Kochi, apart from many state roads. NH 47 from Kanyakumari to Salem pass right through the heart of Kochi while NH 17 to Mumbai and NH 49 to Madurai(in Tamil Nadu) starts from Kochi. Private and public transport services are available to/from all major cities of South India from here.
By Air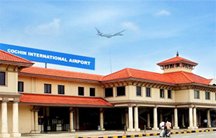 Cochin/ Kochi (Airport Code: COK) has a domestic airport with flights to Agatti, Bangalore, Mumbai, Coimbatore, Delhi, Goa, Madras and Thiruvananthapuram (Trivandrum - the capital of Kerala). The Cochin International Airport is under construction and is in the finishing stages. Currently, there are regular international flights to the Gulf. Flights to other destinations will start soon. Other international airports nearby includes Mumbai, Madras, Bangalore and Trivandrum.
By Sea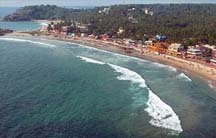 Kochi has a magnificent all weather natural port. Regular boat service to places like Kottayam and Alleppey are available through the scenic backwaters of Kerala.